Inlays and Onlays in Mt Lawley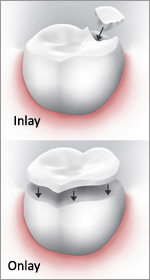 Inlays and onlays are porcelain fillings made in our Australian lab, milled from a block. They're then fired in a kiln, making the filling extremely long-lasting and appropriate for filling larger cavities.
There are many ways to restore damaged and decayed teeth – we can help you decide the best procedure for your teeth.
This two-appointment process may require a crown being placed over the tooth to protect its structure. Contact us today to get started! You can use your insurance coverage for your visits, and HICAPS facilities are on-site.

Beaufort Street Dental Centre | (08) 9272 1956